30 Gallon Fish Tank  – Perfectly Clear Acrylic
30 gallon aquariums are great for a combination of species and plants. They can easily handle many different fish and also reptiles too – it can even be used as a paludarium for non aquatic planting.  They are big enough for fish, crabs, shrimps and snails all in there together.
We are very impressed with the acrylic clarity of the modern 30 gallon fish tank.
So we thought we would review one in detail so that you can see if it is right for you.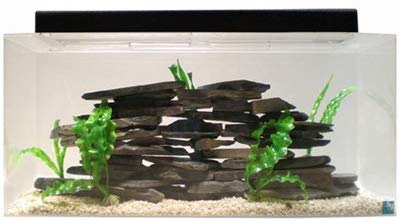 Combo includes aquarium, reflector and electrical 24″ light fixture

Acrylic aquariums are clearer than glass, 17 times stronger, and only half the weight!
More impact resistant and less prone to chipping or cracking than glass, making it safer around children and pets

Safe for Salt or Freshwater

You won't believe how your fish and decorations will pop when viewing this beautiful SeaClear aquarium
Dimensions: 16.00 x 36.00 x 12.00 in

Item Weight: 20.00 lbs

Package Dimensions: 19.30 x 39.90 x 20.10 in

Package Weight: 28.95 lbs

RRP

$225.00

 

plus shipping
SeaClear claims "No one can match the quality of SeaClear's virtually invisible seams, which are backed up by the industry's most extensive warranty. For the discerning aquarist for whom nothing but the best will do, SeaClear can make even the most extreme aquatic dreams come true."
Reviews and Our Comments
First of all lets clarify the background options.   The SeaClear Aquariums come in Clear, Cobalt Blue or Black backgrounds.  The other three sides are Clear and the top is clear.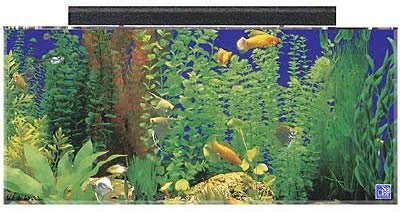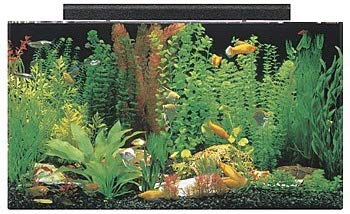 PROS
The acrylic is very clear; much more clear than glass.  As someone said – Completely clear and amazing view.

There are no thick silicon edges that hold glass together; the absence of edges, looks modern, cleaner, more aesthetic.  

Virtually leak proof.

Rounded edges outside look cool.

It is also much lighter than glass.  This means it is easy for a person on their own to place in position to check the views before you fill it.

Well packaged and solid construction.

No distortions (smaller acrylic tanks sometimes bend when filled with water – safe but doesn't look good).
CONS
The light hood, fixture, lack of bulb supplied and the top are not great.  More about these below.

It is acrylic not glass – you have to clean them differently to avoid scratches.  Tips on cleaning follows below.

The smaller size tanks are known for the sides bowing – acrylic is stronger than glass for impact damage but is less rigid and bows in smaller tanks – this 30 gallon fish tank has thicker acrylic and a space bar to keep it straight.  No distortions.

It's not easy to feed the fish.  Top gets in the way.  You have to remove the light and the acrylic covering to feed your fish.
---
Price $38.99 ($7.80 / 10 Items )


---
Light Hood – the top is not good
The hood has a light fixture, but no bulb.  You have to buy your own separately.   It does not look great, you can do what we did and many others have done – just throw out the light hood. Forget it was in the box. As one happy customer said – it's black, bulky, ugly, and doesn't come with a light anyway.
We suggest that you simply buy a LED stand light instead.  That way you don't have to take off the entire hood to feed the fish.
Because the top is partially covered with openings in the middle and back for filters/hoses you can't easily reach into the tank to feed the fish or clean it properly.  Those that keep the top get used to this and will simply lift it enough to feed their fish and remove when cleaning – albeit slowly.
Cleaning
Acrylic will scratch – which is the last thing you want as it looks so good when new.
So be careful when cleaning. We suggest using paper towels to clean the inside or outside of the tank, this will work for algae too.  Or you can buy acrylic-safe scrubbers , such as Mr Clean Magic Sponges.  
A word of warning about using magnetic glass cleaners.  Great idea for glass, not so good for acrylic.  If you don't notice any fine gravel stuck on the inside pad as this will scratch the inside of the tank.
Summary
This SeaClear acrylic 30 gallon fish tank is compatible with both salt and fresh water. It looks really awesome, very clear, modern design and worth noting that when carefully cleaned it will have less chipping and cracking over time compared to the glass tanks.  The Pros seriously outweigh the Cons for this one.
Thomas McCready is the co-founder of Technology Companies that developed many fish tank products such as aquarium heaters and pumps following his passion for keeping fish.