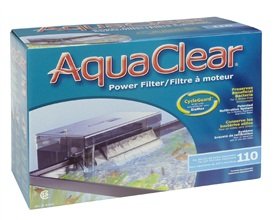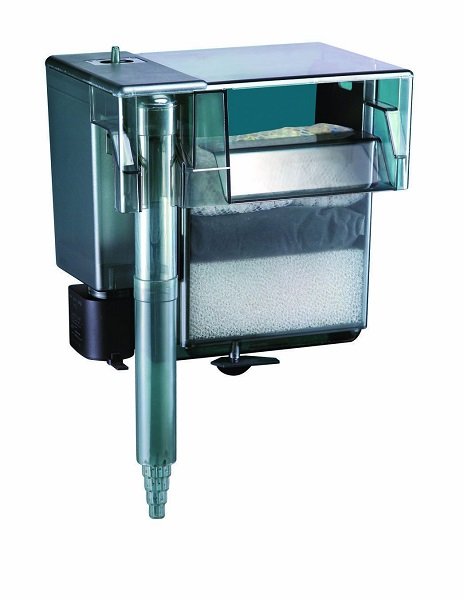 AquaClear has been making the world's best-selling clip-on aquarium fish tank filter since 1978. Its success and longevity are a result of consistent design quality.
AquaClear is known for the clip-on aquarium power filter. In fact, they claim to have invented the first one ever with a hermetically-sealed pump in the late 1970s.
AquaClear's enduring success is based on a simple chamber basket design that allows you to customize filter media to suit your aquarium needs.

AquaClear brand is owned by Rolf C. Hagen Inc.
Hagen owns 26 brands that I am aware of at this time. Other related brands Hagen own includes Fluval, Fluval SEA, Marina, Nutrafin and Exo Terra.




AquaClear Power Filters – 110, 70, 50, 30 and 20 models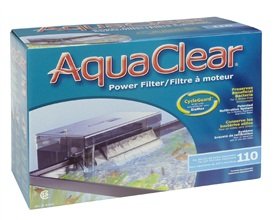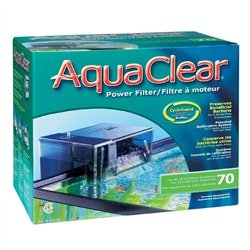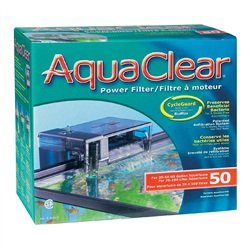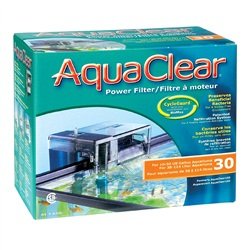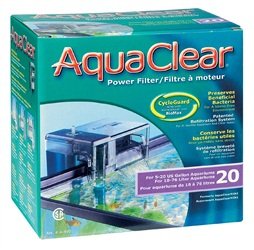 The revolutionary motor technology featured a single moving part, a free-floating magnetic impeller designed to provide superior wear-resistance and service life.
Key Features of AquaClear Filters
Magnetic Technology
Floating inside a magnetic field, the magnetic impeller produced less heat, friction and wear. The breakthrough design made conventional filters with multiple moving parts obsolete. The invention was significant because it meant longer product life, consistent performance, and less energy consumption.
With magnetic impeller technology as the starting point, AquaClear went on to develop many other innovations—including flow control, refiltration, and CycleGuard—that have made this brand a perennial leader in the aquarium filtration market.
Patented Flow Control
With flow control, AquaClear allows users to adjust water flow to a specific aquarium volume or type. This provides flexibility in a variety of situations, such as when fish require more or less water movement and during feeding. Flow control reduces flow intake by as much as 66% without compromising filtration efficiency.
Refiltration System
When reduced flow is selected, the patented refiltration system re-circulates water through the filter media to maximize filtration performance through increased media contact time. Up to 50% of the water in the filter chamber is processed many times to produce a biologically stable, clean and healthy aquarium.
Cycleguard Versatile Filtration
AquaClear Power Filters provide three essential forms of filtration: mechanical, chemical, and biological. Multiple filtration inserts ensure consistent biological filtration. As one type of media is replaced, the balance of the media works to maintain the biological filter.
Efficient Design
AquaClear filtration extracts the full potential of the filter container, ensuring that the entire filter volume is used. The filter media baskets maximize filter media capability. They also prevent water by-pass and allow easy removal and installation of filter inserts. Water returns to the aquarium via a natural waterfall design to ensure efficient water distribution and surface movement for optimum oxygenation.
Flexibility and Filter Output
AquaClear can be used with any type of filter media, which can be interchanged and placed in custom configurations without disrupting the biological stability of the filter.
[FreshBundle bundle_id="aquaclear_starter_kit_001″ layout="tiles" featured="B000260FUM" custom_title="AquaClear Starter Bundle" title_fontfamily="Open Sans" custom_title_font="20″ ribbon_text="Bargain" custom_buy_button="Buy This Bundle Now!" button_styles="button_style1″ button_color="#f47922″ custom_cta="" target="blank" box_border="border_style2″ border_color="#dd1616″ custom_bgcolor="" header_image="" ]
AquaClear 110 Power Filter, 416 L (110 US Gal.)
The 110 Power Filter features a unique multi-stage filtration system that provides complete mechanical, chemical and biological filtration for superior water quality.
The Power Filter has a filtration volume that is up to 7 times larger than comparable filters.
It also allows superior contact time with filter media.
The filter preserves beneficial bacterial creating a stress-free environment for aquarium inhabitants and maintaining clear aquarium water.
Its unique waterfall design enables filtered water to return to the tank silently, gently breaking the surface tension and creating beneficial oxygenation. The Power Filter's patented flow control feature allows you to adjust the water flow according to your aquarium needs.
The media basket prevents water from by-passing the filter media, maximizing filtration efficiency.
Installation and maintenance are quick, easy and convenient. The filter comes equipped with AquaClear Foam, Activated Carbon and BioMax.
AquaClear offers an extensive line of media, including Zeo-Carb and Ammonia Remover, exclusively designed for the 110 Power Filter.
The AquaClear 110 Power Filter is ideal for 227 to 416 L (60 to 110 U.S. gallons) aquariums.
Maximum Output: 1890 L/h (500 U.S. Gal./h)
Other sizes available:
A595 AquaClear 20 Power Filter, 76 L (20 U.S. gal)
A600 AquaClear 30 Power Filter, 114 L (30 U.S. gal)
A610 AquaClear 50 Power Filter, 189 L (50 U.S. gal)
A615 AquaClear 70 Power Filter, 265 L (70 U.S. gal)
Instruction Manual 
Available HERE.
Parts list for the 110
Other Parts:
A16430 – AquaClear 110/500 Filter Case Cover, bulk suitable for AquaClear 110/500 Power Filter (A620).
A16417 – Aqua Clear 110/500 Seal Ring suitable for AquaClear 110/ 500 Power Filter (A620).
A16440 – Filter Media Basket for AquaClear 500.
A627 – AquaClear 70/300 Extention Tube suitable for AquaClear 70/300 Power Filter (A615).
A638 – AquaClear 110 Impeller suitable for AquaClear 110 Power Filter (A620).
AquaClear 70 Power Filter, 265 L (70 US gal.)
Comments for the 110 model apply to this model too.
The AquaClear 70 Power Filter is ideal for 152 to 265 L (40 to 70 U.S. gallons) aquariums.
Maximum Output: 1135 L/h (300 U.S. Gal./h).
AquaClear 50 Power Filter, 189 L (50 US Gal.)
Comments for the 110 model apply to this model too.
The AquaClear 50 Power Filter is ideal for 76 to 190 L (20 to 50 U.S. gallons) aquariums.
Maximum Output: 757 L/h (200 U.S. Gal./h).
AquaClear 30 Power Filter, 114 L (30 US Gal.)
Comments for the 110 model apply to this model too.
The AquaClear 30 Power Filter is ideal for 38 to 114 L (10 to 30 U.S. gallons) aquariums.
Maximum Output: 568 L/h (150 U.S. Gal./h).
AquaClear 20 Power Filter – 76 L (20 US gal.)
Comments for the 110 model apply to this model too.
The 20 Power Filter is ideal for 18 to 76 L (5 to 20 U.S. gallons) aquariums.
Maximum Output: 378 L/h (100 U.S. Gal./h).
The five models available provide a complete selection of flow rates for the most popular sizes of aquariums. The filter's unique design allows for up to six times more media volume and the longest water to media contact time in the industry.
Patented Re-filtration System
Sometimes delicate fish and plants require a more gentle water flow. The patented re-filtration system allows you to control the flow rate without compromising filtration efficiency. When the flow rate is reduced, up to 50% of the water within the filter chamber is processed multiple times.
CycleGuard Multi-Stage Filtration System
Provides optimal mechanical, chemical, and biological filtration. A healthy aquarium requires "beneficial" bacteria. Invisible and harmless, beneficial bacteria are essential in the removal of toxic ammonia and nitrite. With cartridge filtration systems, when you throw away the cartridge, you throw away beneficial bacteria. It can take weeks for the bacteria to re-colonize, resulting in a stressful environment.
Typical Filter Media Placement
Bottom
AquaClear Foam Insert, which does the following:
1. Helps with debris removal and provides optimal water distribution patterns, allowing subsequent filter media to perform at full efficiency.
2. Biological filtration, due to the porous structure of foam, providing surfaces for beneficial bacteria.
Middle
AquaClear Activated Carbon Filter Inserts contain 100% premium research grade carbon. Premium research grade carbon provides large amounts of surface area for adsorption of undesirable impurities.
Top
AquaClear BioMax Filter Inserts contain BioMax ceramic rings. The surface of BioMax is made up of a complex pore system that allows bacteria to thrive.
Media Replacement
Foam Filter Insert: Replace Foam Filter Insert every two months.

Activated Carbon Filter Insert: Replace Activated Carbon Insert every month.

BioMax Filter Insert: Replace BioMax Insert every three months.
Tip1: All of the 70, 50, 30 and 20 models use the same motor and vary only in the size of the box and the impeller's fin count/size.  (The 110 model is different).  So if you want to reduce / control the flow of water better then you can easily buy a 70 model, which has a nice box  size and swap out the impeller for a 20 model size for smaller 10 gallon tanks if desired.  How to do this – the motor just rotates 90 degrees and comes right off, the impeller slides right out of it.
Tip 2: If you're running a 55 gallon tank or larger, the 110 size has a much larger box still, and thus allows you more flexibility to drop in much more bio media, and on the lower flow setting allows for even a planted tank except directly under the filter. Once you pass around 75 gallons, you'll use multiple 110's or switch to a sump build.
Thank you to B.T. for these great tips.
Important observation
In general it is always wise to assume that when buying any fish tank filter to underestimate the size of filter against the manufacturers' claims for tank size.  So if a manufacturer says their filter is ideal for tanks 30-50 gallons it is sensible to think it is good for 30 gallons and less so for 50 gallons.  Often aquarists will assume that filter is good for up to 40 gallons!
However, AquaClear filters have generous size boxes and can easily move a lot of water.  There are many reviews on Amazon and elsewhere that owners of these filters clearly think that for example a 50 model , which is recommended for 20-50 gallon tanks can handle tanks up to 75 gallons.  Even the 110 model suitable for 60-110 gallons are being used for  120-125 gallon tanks.  Just make sure you keep them maintained and clean as directed.
Amazon.com link for AquaClear Filters:   AquaClear Fish Tank Filter
Thomas McCready is the co-founder of Technology Companies that developed many fish tank products such as aquarium heaters and pumps following his passion for keeping fish.