Marineland fish tank filters are always very highly rated on sites like Amazon.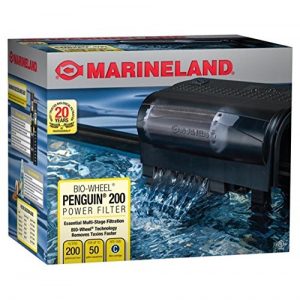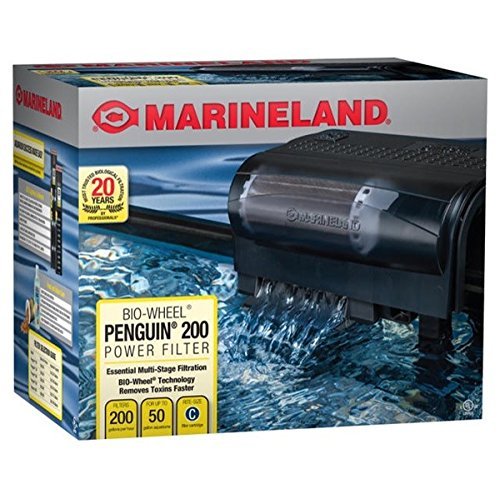 The filters have large numbers of reviews and are usually in the top 10 filters on sale.  They occupy 6 of the top 20 best sellers on Amazon.com at the time of writing this article.  As a top selling brand they must be good or an awful lot of people have wasted their dollars.
Do they deserve the recognition as one of the top brands?  – let's dig a little deeper by looking at their top seller the Penguin Range. 
This article reviews the likes and don't likes. What real customers have said on both the Marineland website and Amazon.com.  One simple aim, to review if the filters are good quality, value for money and just as important what customers do not like about them.
Having spent hours going through reviews and researching various other blogs and forums I hope this article will help you decide if your next filter is going to be from Marineland.
The Marineland Fish Tank Filters on offer
Magniflow® Canister Filters
Magnum® Polishing Internal Canister Filters
Penguin® Power Filters
Emperor® Power Filters
The MARINELAND website kindly provides reviews and has a Q&A section which is very helpful.  To be fair to the manufacturer they show the good and the bad reviews – this is refreshing as they are not trying to say that everything works perfectly.
If you want more reviews go to Amazon.com.  If you want to see our latest review click here.
The top selling Marineland Penguin Power Filter w/Multi-Stage Filtration (at the time of writing) has the following reviews:
Amazon.com – over 2,300 customer reviews
Marineland website – over 180 reviews
Interestingly the Marineland website also tells us that 96 out of 175 (55%) reviewers recommend this product.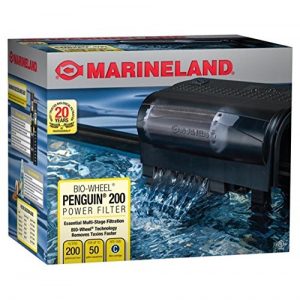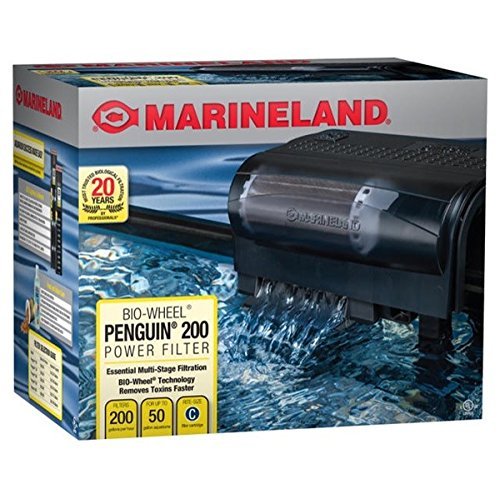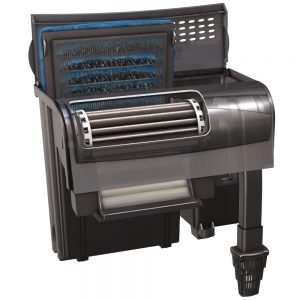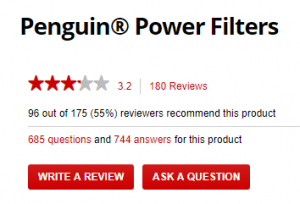 Marineland Key Information for Penguin Power Filters
Marineland Aquarium Products has been producing new products since 1970, leading to the introduction of the BIO-Wheel.  The following is taken straight from their website so that you can see exactly what they are saying about their Penguin Filter.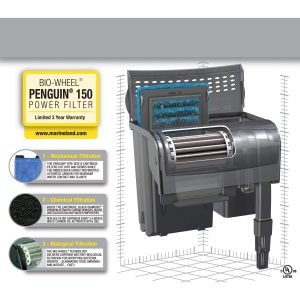 All Penguin® BIO-Wheel® Power Filters deliver easy, three-stage mechanical, chemical and biological aquarium filtration.
Convenient Penguin Rite-SizeTM Filter Cartridges come ready to use with each filter…ready to mechanically and chemically remove waste, discoloration and odors. Each contains new faster-acting Black Diamond® Premium Activated Carbon for maximum efficiency.
Biological filtration is provided by the revolutionary and patented BIO-Wheel – proven best at removing toxic ammonia and nitrite.
All BIO-Wheel filters feature Noise-Reducing Two-Piece Vented Covers, and Adjustable Mid-Level Intake Strainers.
Clearly one of the key features is the 'Noise Reducing Two-Piece Vented Covers'.   We wanted to know how good a key feature this is and what customers views are on the feature.  Does it work for them!
Only 55% of customers surveyed by Marineland recommend this product, why do 45% not recommend it?
Noise, noise noise – they are too loud.  Out of the 89 reviews giving only 1 to 3 stars on the Marineland website the biggest complaint by a long way is the noise.  There are a few grumbles about poor quality and breaking down but most of the issues are the noise of the impeller is just too much!
But there are an awful lot of these filters being sold and 89 out of thousands of buyers may not be that bad.
Marineland Response to Critical Reviews
Marineland offers the following advice if there seems to be a noise problem: "When filters begin to make noise, and get a bit warm, this is a major indication that the hobbyist needs to remove the impeller from the motor to clean it! It is simply clogged, and cleaning will have the filter back up and running in no time! "
"When installing a new filter system or a new bio wheel, be sure to float the bio wheel in the water for a day or so. This will allow it to absorb water that much faster, so that when you install it into the filter system, it will be extremely quiet. You should not really hear a loud splashing sound." 
These filters also come with a 3 year warranty and suggest that anyone with a problem contacts their Care Team saying that "most likely our team can resolve the issue with some troubleshooting, but if not, they will be happy to replace the impeller or filter for you! Simply call 1-800-322-1266, the number posted on our sales packages and instructions."
Amazon Reviews
We all know that sometimes the reviews on Amazon are a little biased at times.  But mostly they give a good guide.
Out of over 2,300 reviews over 1600 gave the Penguin Power Filter a positive star rating!
Compared to the 89 not so happy reviews on the Marineland website this is an enormous boost for the product.
Why do 68% of Amazon customers recommend the Marineland Filters?
The first key features of the Penguin filter as stated on the Marineland website is that the 'Filters deliver easy, three-stage mechanical, chemical and biological aquarium filtration'.
The reviews left on Amazon confirm that these fish tank filters are actually easy to use and the ability to add more filters improves the actual filtration process.  There are a ton of reviews saying this, and although some add a little advice on how to improve the product and how to look after it correctly, in general they are all saying these are easy to use and easy to change the filters.
Another key point often raised is that they are good value for money.  Depends how much you want to spend and your view on value.  A few were critical of the filter replacement costs, but most expected to pay for filters and did not expect cheap replacements.
"It's easy to setup, easy to clean, and easy to use."
"Overall, I like the 350's slim back design, and to be able to add up to 4 cartridges."
"It is good value for the quality."
"The filter cartridges are very easy to change."
One particular review caught our attention:
"They are as quiet as our canisters. Every once in a while they start making noise. It is always the impeller letting us know that not all is well. If it happens soon after the water change gently wiggling/pushing/tapping the top of the intake tube does the trick. (Usually this happens when the impeller housing and the intake tube were not connected perfectly).
If noise continues we immediately turn off the filter and check the impeller. Most often than not there is a tiny hair, a piece of dead plant or other detritus winding around the impeller shaft. Remove them carefully, and quiet returns."
The bio-wheel and the filter cartridges are easy to buy and install, and so it makes sense to have spares.  A lot of people use more than one of the filters in their tanks to avoid any problems should one need replacing or maintenance.  This is simply good housekeeping.  But note that it is fairly easy to replace cartridges without having to shut down the filter.
Filters to suit your aquarium size
Another advantage of the Penguin Filter Range is that there is a choice of size to suit your tank.  There are FOUR filter sizes available:
Up to 20-Gallon, 100 GPH – Certified flow rate of 100GPH, perfect for all aquariums up to 20-gallon,
20 to 30-Gallon, 150 GPH – for all aquariums up to 30-gallon, has a certified 150 GPH flow rate,
30 to 50-Gallon, 200 GPH – for all aquariums up to 50-gallon, has a certified 200 GPH flow rate,
50 to 70-Gallon, 350 GPH – for all aquariums up to 70-gallon, has a certified 350 GPH flow rate.
Penguin Power Filters are safe to use good for both freshwater and saltwater aquariums.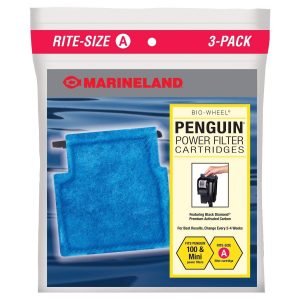 Note the above need different size cartridges.
Use the Rite-Size A (up to 20-Gallon),
Use the Rite-Size B (20 to 30-Gallon),
Use the Rite-Size C (30 to 50-Gallon),
Use the Rite-Size two C filter cartridges for the 50 to 70-Gallon filter.
VERDICT
Marineland fish tank filters have been around for a long time, (nearly 50 years as Marineland Aquarium Products) that says to me that they must be good.  Yes they need a little care and good maintenance and yes they can be noisy.  But it seems that most people using them think that they are good value for money.
They are a good value aquarium filter but probably not better than canister systems.  However their ease of maintenance is much better than canisters which require more work and can be very messy.  But like most things in life the best are usually not cheap and this is one of the best in class for the cost.
The bio-wheel and the filter cartridges are easy to change, maintenance is fairly quick and simple – there are many tips and reviews online and certainly no shortage of videos to watch.
Impressive 3 Year Warranty
What is really impressive is the 3 year warranty offered by Marineland and the customer care if you have a problem.
Having bought a new heater last year and 1 week after the 1 year warranty expired it failed was very annoying, and a waste of money, if this has ever happened to you then you will know that a 3 year warranty feels a lot more comforting.
In conclusion, Marineland is certainly trying to live up to its reputation as the company dedicated to advancing aquatic science so hobbyists and beginners alike can enjoy a successful and satisfying fish keeping experience.  Hopefully future refinement will further eliminate any noise issues.
I have included links below for the manuals, instructions and videos to help with the set up and use of these fish tank filters.
Product Manuals and Instructions
If you have bought one of these Penguin Power filters and cannot find the Product Manuals and Instructions then the links below takes you to them:
Penguin Power Filter Manual 75B
Penguin Power Filter Manual Models 100B, 150B, 200B and 350B 
Penguin Quick Set Up Guide Models 100B, 150B, 200B and 350B
Videos to help 
Thomas McCready is the co-founder of Technology Companies that developed many fish tank products such as aquarium heaters and pumps following his passion for keeping fish.