How good is the new Fluval 07 Canister Filter Series?
'THE WORLD'S BEST-SELLING CANISTER FILTER'
This is the opening heading on the Fluval 07 Canister Filter webpage for their latest product range. It is a big claim and then they tell us how it is even better that the previous best selling filter range.
The All-New 07 Series marks the 7th incarnation in nearly 4 decades of Fluval's top selling canister filter family worldwide. Not only does the latest generation incorporate the power and reliability you've come to expect from the leader in aquatic filtration, but it also features several new performance upgrades that make it up to 25% quieter and more robust, energy-efficient, flexible and easier to use than ever before.
| | | | |
| --- | --- | --- | --- |
| | | | |
| 107 Performance Canister Filter up to 30 US Gal (130 L) | 207 Performance Canister Filter, up to 45 US Gal (220 L) | 307 Performance Canister Filter up to 70 US Gal (330 L) | 407 Performance Canister Filter up to 100 US Gal (500 L) |
Before I show you the marketing information from the manufacturer with their many glossy images and videos etc to demonstrate how it has been 'Redefined and Redesigned' I will give you my review on the changes.
The real upgrades that count
If you already own an earlier model and are thinking of upgrading then these are the noticeable improvements.
The Fluval 07 filter is clearly noticeably quieter than previous models.  Some people have reviewed this and said it is silent and cannot be heard – this is not true, although it is extremely quiet, it is not completely silent.  But it is close.
They have made the canister more robust by reinforcing the bottom corners.
The following graphic is taken directly form the Fluval website: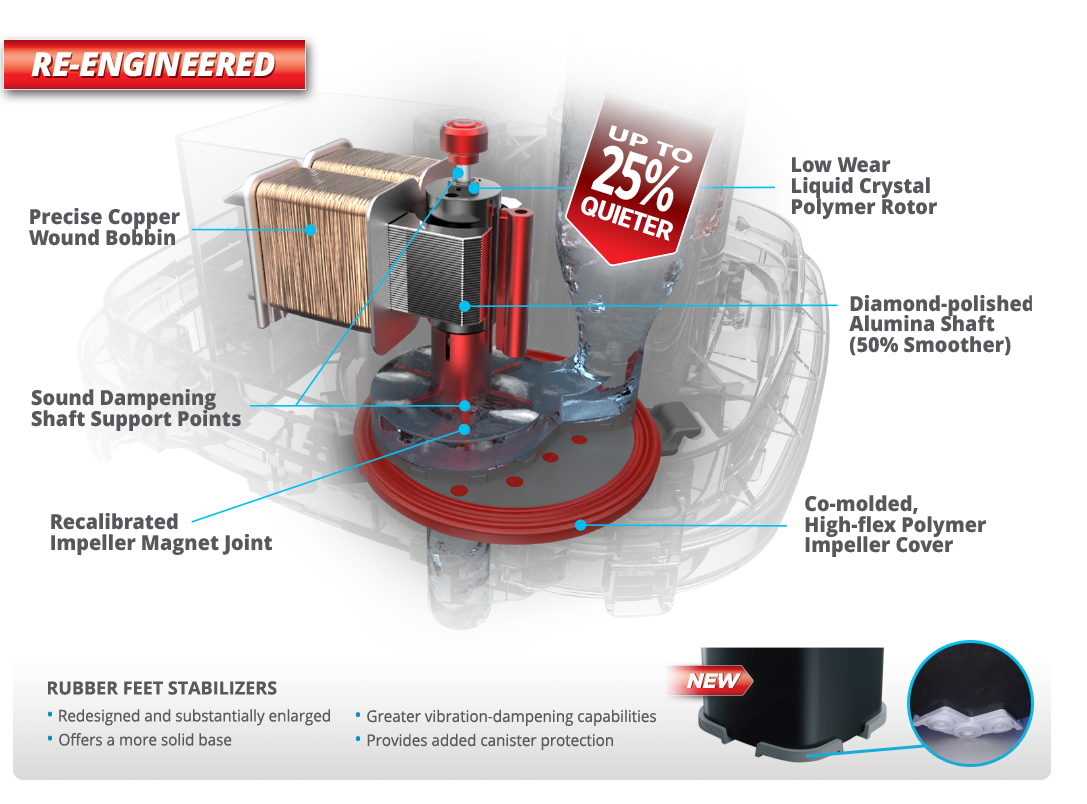 Fluval has tried to reduce the effort and time involved for maintenance, this includes redesign of the following:
Aquastop valve – redesign and stronger materials
Lift-Lock Motor Clamps – now single action and new reinforced materials
New EZ-Lift Media Baskets – quicker and less mess
Quick Primer – redesigned to be easier and stronger materials
| | |
| --- | --- |
| | |
| One of the most notable of the above list being the improvement of the aquastop valve opening mechanism seems to work well.  | The new pull out for the media baskets is a good improvement as they all come out and go back together easily. |
Efficiency
Fluval 07 filters are big on power, yet small on energy consumption. The 107 and 207 models, for example, draw as little as 10 watts of electrical energy, which is EQUIVALENT TO A SINGLE HOUSEHOLD LED LIGHTBULB!  That is impressive and a real noticeable benefit.

Are there any problems with the New Fluval 07 series?
A note of advice from someone that reviewed the 107 model on Amazon:
"I made an idiot mistake with the gasket. I pressed it into the grooves on the wrong side. It's hard to describe. When I primed it and plugged it in, I was flooding my whole kitchen! Read the instructions. Carefully. Look at ALL of the pictures."
This is not the only review that I have seen that mentions water leaks from these filters and I do wonder if this is a common problem of either not reading the instructions, watching the videos, looking at the various youtube sites etc before getting started or as I suspect the filters are being damaged in shipping in many of the other cases.
Should you buy one of the Fluval 07 series?
If you don't have a filter, it is an excellent choice.  If you have a Fluval FX6 that is working fine then no immediate need to upgrade.  If you have an earlier model than the FX6 then yes it is worth the upgrade.
To sum up the new Fluval 07 Canister Filter Series – powerful pump performance, reduced energy consumption and ultra-quiet operation!
To get the best current prices check out this link on Amazon now Click Here
| | | | |
| --- | --- | --- | --- |
| | | | |
| 107 Performance Canister Filter up to 30 US Gal (130 L) | 207 Performance Canister Filter, up to 45 US Gal (220 L) | 307 Performance Canister Filter up to 70 US Gal (330 L) | 407 Performance Canister Filter up to 100 US Gal (500 L) |
| Buy Now | Buy Now | | Buy Now |
The Following information is provided by Fluval
Key Features
Fluval eTEC (Efficient Technology) construction employs cutting-edge design, materials & manufacturing methods to deliver powerful pump performance, reduced energy consumption & ultra-quiet operation
Powerful motor generates constant pumping power and pressure that endures over time
Re-engineered, precision-crafted pump runs up to 25% quieter than previous generation
Energy-efficient – some 07 series filters draw as little energy as a single household LED lightbulb
Redesigned, substantially enlarged rubber feet stabilizers offer superior vibration-dampening ability and added protection
New ergonomic AquaStop valves with raised lip for smoother operation
Single action dual Lift-Lock motorhead clamps for quick release and attachment
Redesigned Primer with larger easy-grip handle provides fast, effortless start-ups with just a few pumps
EZ-Lift media baskets with new center handle allow media stack to be removed with just 1 finger for quick access (less mess & no need to empty canister of water)
Unique vertical pre-filter cartridge with independent access provides more surface area and better mechanical filtration
All necessary authentic Fluval media included
Designed and manufactured in Europe
MODEL
Item #
107
A440
207
A443
307
A446
407
A449
UPC
015561104401
015561104432
015561104463
015561104494
Aquarium*
10-30 US Gal
(40-130 L)
20-45 US Gal
(60-220 L)
40-70 US Gal
(90-330 L)
50-100 US Gal
(150-500 L)
Pump Performance
145 US Gal/h
(550 L/h)
206 US Gal/h
(780 L/h)
303 US Gal/h
(1150 L/h)
383 US Gal/h
(1450 L/h)
Vertical Pre-filter
514 cm2
803 cm2
803 cm2
1074 cm2
Basket Volume
1.2 L
1.8 L
3.1 L
4.2 L
Total Chamber Volume
2.0 L
3.1 L
4.5 L
6.0 L
Canister Volume
3.9 L
5.3 L
7.3 L
9.2 L
Filter Circulations**
95 US Gal/h
(360 L/h)
121 US Gal/h
(460 L/h)
206 US Gal/h
(780 L/h)
245 US Gal/h
(930 L/h)
Max Water Column Height
1.45 m
1.45 m
1.75 m
2.25 m
Wattage
(120V/60 Hz)
10 W
10 W
16 W
23 W
Wattage
(230-240V/50Hz)
10 W
10 W
15 W
20 W
Filter Dimensions
(L x W x H)

7.5 x 7 x 13.7"
(19 x 18 x 35 cm)
7.5 x 7 x 16.5"
(19 x 18 x 42 cm)
9.5 x 7 x 16.5"
(24 x 18 x 42 cm)
9.5 x 7 x 19.3"
(24 x 18 x 49 cm)
What is included in the 407 model package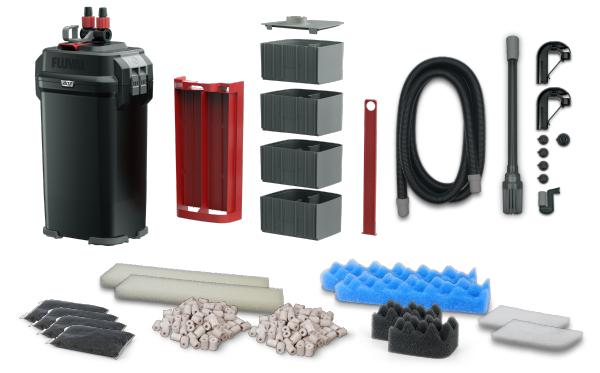 Bio-Foam Max
Bio-Foam
70 g carbon
Quick-Clear
Bio-Foam+
AquaStop valve
Ribbed hosing
Rim connectors
Intake tube
Intake strainer
Intake Stem with intake strainer
Pre-Filter basket
Media basket
Media basket cover
Media basket handle
Suction cup (30 mm)
Output nozzle
2 rubber hose connectors
Instruction manual
Warranty
3 YEAR LIMITED WARRANTY (plus a 2-year extended warranty upon registration*)
Fluval 07 Series External Filters are warranted against defects in material and workmanship under normal aquarium usage and service for three (3) years from date of purchase. Non-replaceable and non-serviceable parts will be repaired or replaced at Hagen's discretion, free of charge, when the complete filter is returned with all components along with a valid proof of purchase and postage paid. The warranty does not cover wear and tear parts such as the impeller assembly or motor seal ring. The warranty does not cover wear and tear or parts which have not been adequately or correctly maintained. The warranty is limited to repair or replacement only and does not cover consequential loss, loss or damage to livestock, personal property or damage to animate or inanimate objects, irrespective of the cause thereof. This warranty is valid only under normal operating conditions for which the unit is intended. This excludes any damage caused by unreasonable use, negligence, improper installation, tampering, abuse or commercial use. Before returning the filter under warranty terms, please ensure that all setup and maintenance instructions have been followed. If you are in doubt, please contact your local aquatic specialist retailer for further advice before returning the product. WARRANTY IS ONLY VALID WITH PROOF OF PURCHASE FROM AN AUTHORIZED FLUVAL DEALER. WARRANTY DOES NOT AFFECT YOUR STATUTORY RIGHTS.
VIDEOS
Thomas McCready is the co-founder of Technology Companies that developed many fish tank products such as aquarium heaters and pumps following his passion for keeping fish.