Owning a large aquarium can get to be a lot of hassle, particularly when it comes to cleaning, filling, and emptying the tank.  What is the best fish tank filter and is it worth the money?
By investing in a high quality, powerful canister fish tank filter with a few extra features, you may find that keeping your tank in tip top shape is not all that difficult.
Both the Fluval Fx6 and the slightly smaller Fluval Fx4 are two of the highest rated canister filters for large aquariums on the market today and are certainly worth a look.
What Are the Differences Between These Two Filters?
The most obvious difference between these two canister filters is size. The Fluval Fx6 is designed for larger tanks up to 400 gallons, while the Fluval Fx4 is meant for tanks of 250 gallons or less.
There are not a lot of other differences between these two filters, other than the fact that the Fluval Fx6 has six layers of filtration while the Fluval Fx4 has only four. The Fluval Fx6 also has a higher flow rate which would be expected for a larger tank.
Fluval Fx6 and Fluval Fx4 Specifications
The Fluval Fx6 has a high star rating on Amazon. This pump measures 15" x 15" x 20" and weighs just under 20 pounds. It is appropriate for aquariums up to 400 gallons of water and has a maximum pump output of 925 gallons per hour.  To ensure you are searching for the right product the official Bar Code / UPC is 015561102193.
The Fluval Fx4 has also a high positive star rating on Amazon.  This pump measures 15.6" x 15.6" x 17.7" and weighs in at just over 14 pounds.  This canister filter has been designed for aquariums up to 250 gallons and its multistage filter pumps out 700 gallons of water per hour.  The official Bar Code / UPC is 015561102148.
RUBBER FEET
Reduces vibration
TWIN OUTPUT NOZZLES
Multi-directional for customized water currents
SELF PRIMING
Just add water & Smart Pump does the rest
What Does the Fluval Fx6 Offer?
The Fluval Fx6 is really considered to be one of the premier canister filters for large aquariums, due in part to the fact that it is capable of a pump output of 925 gallons per hour. It is also able to filter 563 gallons per hour, allowing for your tank to be cleaner and healthier than ever before.
The media baskets are stacked in such a way that they are capable of holding up to 5.9 L of media, which is an awful lot of cleaning power. The baskets themselves are also engineered in such a way that the normal water bypass that you find in other filters simply does not take place.
There are six stages of filtration in this filter, considerably more than similar products.
When you also consider the self priming feature and built in electronic monitoring of the pump, it should come as no surprise that any owner of a large aquarium would choose this model.
Why Would You Choose the Fluval Fx4 Instead?
The most obvious reason for choosing the Fluval Fx4 model would be the size of your tank. If your tank is no larger than 250 gallons, then this would be the right size for you. There are numerous features that this filter has that you simply will not find in comparable filters in any price range, including a function that evacuate excess air every 12 hours, a fully automatic self priming function, and the ability to hold up to 1 gallon of media.
In spite of the fact that this filter is extremely powerful and has a large amount of media, its relatively small size means that it can easily fit below your aquarium. It also has five levels of filtration, while traditional canister filters only have three or four at best.
The all-new FX4 canister filter bridges the gap between the Fluval 406 and the FX6 canister filters, making it an ideal choice for aquariums up to 250 US Gal (1000 L).
Cleaning and Maintenance of These Two Filters
Is there anything worse than cleaning a fish tank's filter (maybe cleaning a turtle's tank!). However, both the Fluval Fx6 and the Fluval Fx4 have made cleaning and maintenance extremely easy.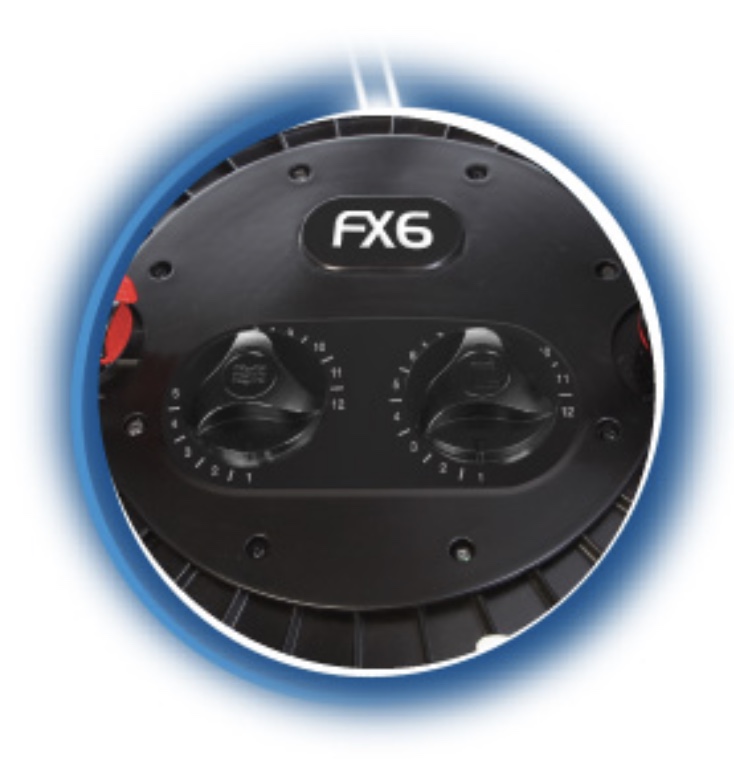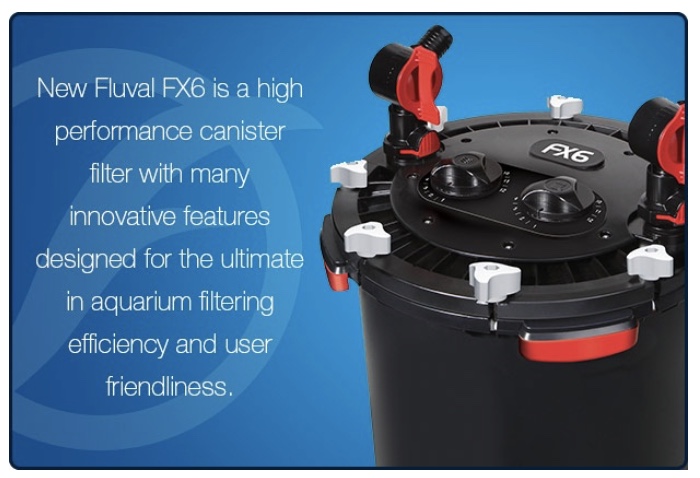 Both of these products come with built-in indicator dials that will show you when it is time for filter maintenance or a water change.
There is also a purge (or "utility") valve that is located at the bottom of the filter that makes cleaning the media very easy. This valve can also be used for emptying the tank altogether.
In short, in order to clean the filter, all you need to do is use the valve to turn off both the input and output hoses, attach an external hose to the output so that it can be drained and cleaned. Another feature that a lot of people like about this filter is that you can also use it as a way to fill your tank without any spillage.
Drawbacks of the Fluval Fx6 and Fluval Fx4
The only real drawbacks that you will read about online seem to have to do with removing and replacing the lid and hoses. Because the lid on both of these filters is so substantial and needs to be secured properly at all times, it takes a little more effort than a filter lid with some type of quick release mechanism. However, once you get used to how this works, you should not have any problems.
Where Can You Buy Them? 
Both of these canister filters are a little difficult to find and traditional pet stores, so buying online is going to be the easiest way to get your hands on either the Fluval FX6 or the Fluval FX4.
Click here to buy the Fluval FX4 on Amazon.com.
Which of These Is Right for You?
Since the only substantial differences between these two canister fish tank filters have to do with volume and water flow, the decision as to which one is best for you will come down to the size of your tank. In either case, the unique technological features, quiet operation, and power that both of these filters provide make them the best possible choice for almost any aquarium or tank.
Both the Fluval Fx6 and the Fluval Fx4 are considered to be the premier canister filters for larger size tanks because of their dependability, too.
Click here to buy the Fluval FX6 on Amazon.com.
Thomas McCready is the co-founder of Technology Companies that developed many fish tank products such as aquarium heaters and pumps following his passion for keeping fish.