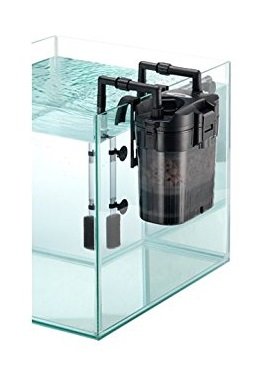 If you are the owner of a small aquatic or turtle aquarium and find yourself searching for a way to keep the tank as clean, odor free, and healthy as possible, then you may want to look into buying a compact, canister filter.  The Finnex PX – 360 Compact Canister Fish Tank Filter might be the one for you.
These filters come in a variety of sizes and have numerous features, but if your tank is 25 gallons or less, then the Finnex PX – 360 Compact Canister Aquarium Filter may be the best possible answer for you.
What Is the Finnex PX – 360?
The Finnex PX – 360 Compact Canister Aquarium Filter is one of the most popular compact canister filters designed specifically for tanks up to 25 gallons. It includes everything that you will need in order to install the filter and get it running, including several instructional videos to help you along.
It measures 4.8" x 7.2" x 8.1" and weighs just 3.5 pounds. It can be attached to the rear or side of your tank and because it is so small, it will not require the excessive space that is often required by larger or more powerful filters.
This filter is rated at 95 gallons per hour, which is more than sufficient for a small aquatic tank.
What Do You Get with This Canister Filter?
This fish tank filter comes complete with everything that you will need including a durable water intake strainer, spray bar, and a filter hanger so that you can safely hang this from the side of your tank.
It also comes with all of the filtration media that you will need including an activated carbon floss pad, sponge and ceramic rings that reside in the holding trays. The container itself is translucent so that you will be able to see how much residue and waste is being trapped in the media. This feature makes it particularly easy to know just when it is time to clean the filter.
The inclusion of a spray bar is something that a lot of aquarium owners appreciate since this feature is designed to properly distribute clean water across your tank rather than having it flow with too much pressure. Because this filter has a flow rate of approximately 95 gallons per hour, being able to utilize a spray bar ensures that you will not have two strong of a flow for your small tank.
Even though the filtration media is included, you can of course use your own media.
What Are the Benefits of the Finnex PX – 360?
A lot of aquarium users have chosen to purchase the Finnex PX – 360 Compact Canister Aquarium Filter because it is one of the few external canister filters designed specifically for smaller tanks.
Even though it is rated for tanks that are up to 25 gallons in size, it is also a very good choice for significantly smaller tanks. Some users have reported hooking this filter up to tanks as small as 5 gallons.
Another benefit of this fish tank filter is that it comes complete with the media that you will need to get started.
There are two stackable media trays and an optional sponge strainer to provide even more waste removal.
Not all canister filters are able to be hung directly on the back or side of the tank, let alone also be stowed away more discreetly, so the versatility of this filter is also somewhat unique.
Our latest comparison of canister filters can be found here.
How Hard Is Cleaning and Maintenance?
Cleaning and maintaining any canister filter is always going to be a little difficult, though not nearly as difficult as you would have to deal with while using other methods of filtration. However, you will need to learn how to remove the hoses from the device in such a way that water does not begin to leak. After a few tries however, you should be able to open the filter and clean the media with few problems.
It is worth noting that the Finnex PX – 360 Compact Canister Aquarium Filter has a self priming feature which is something that should not be overlooked. By having a filter that is self priming, you will not need to put your mouth to the hose and suck aquarium water in order to get the flow of water going – and as anyone who has a filter that is not self priming will tell you, it is a really big deal!
Are There Any Drawbacks?
There are only a few drawbacks to the Finnex PX – 360 Compact Canister Aquarium Filter, the most obvious of which is that it really is designed only for tanks that are less than 25 gallons.
Some people have reported a little trouble with keeping the hoses connected, though that is something that can be remedied by paying close attention to the alignment of the filter and making sure that it is not moved around once it is attached to your tank.
Where Can You Buy the Finnex PX – 360?
Even though this is a very affordable canister filter, it can be quite difficult to find in pet stores. As a result, buying this product online is going to be the best solution for most individuals. It is available online at various prices, though you should be able to get your hands on one for less than $40.
Is This the Best Canister Filter For Your Aquarium?
The truth is that a lot of small aquarium owners never thought that they would be able to take advantage of the many benefits of a canister filter such as this, specifically because the water flow would be too high for a small tank.
But, the Finnex PX – 360 Compact Canister Aquarium Filter is able to provide an adjustable flow to small tanks either through the use of the included spray bar or a spray nozzle for slightly stronger flow. In any case, this canister filter is a great option for newcomers to aquariums or those who are looking for a way to keep their tank is clean as possible.
Thomas McCready is the co-founder of Technology Companies that developed many fish tank products such as aquarium heaters and pumps following his passion for keeping fish.