Why buy a 120 Gallon Aquarium?
In simple terms, a 120 gallon aquarium holds a lot of fish if they're smaller, but it also holds lots of Cichlids! Perfect for African Cichlids, 18" Pleco or even a 14" Oscar too!
We have a 120 gallon tank recommendation and a slightly larger 150 gallon
if you are able to go a little bigger
at the bottom of this article.
What to consider before buying a 120 gallon aquarium
Quality of the tank and the stand
Make sure you buy a good tank, there is a lot of water to spill if it has a leak – be careful when first filling this monster – take your time.  If you fill this slowly, not all in the same day, you will save yourself a lot of cleaning up should it have a leak.
Please refer to our setting up a new tank post here.
Being a larger tank means that you will want to invest in a sturdy stand.  Sometimes the stand and tank only come as a set – this is a drawback as often the stand may be made of particle board and is not great.  It may last, but I would want a better stand, again no water drowning the floor and fish lost because the stand collapses. 
Water weight can be a surprise – check out how much water weighs here
Speaking of fish – check out our article on moving up to a larger tank HERE.
Check out any reviews for the stand quality, or ask the seller – worth reading before ordering.
Warranty – limits and exclusions
The issue with most manufacturers is that they want to limit the warranty they provide – so make sure you pay attention to the detail. Most warranties cover any defects in materials or workmanship, subject to the conditions and exceptions stated below.
Usually the warranty is only for you the purchaser – you cannot pass it on if you sell the tank.  The warranty terminates if you sell or otherwise transfer the aquarium. Warranties normally are limited to the replacement of the tank only and not for property or livestock loss – so any dead fish or ruined carpets are not covered if the tank leaks.
The exclusions and exceptions to the warranty cover – particularly if you have a heavy 120 gallon tank
These are the terms that allow the seller or manufacturer to say you bought the wrong stand.  Which is amazing as often their stand is part of a set, and it is not as good as the one you may buy from somewhere else.
If the aquarium is placed on a stand that is not commercially manufactured for use with an aquarium of this size and weight, is inadequate to accommodate the size and weight of the aquarium or does not provide a flat, level surface capable of fully supporting the aquarium's bottom frame.
So when you decide on a stand make sure it complies with the above – you may have to get proof when you buy the stand that it is suitable for the weight of a 120 gallon aquarium.
In common US measures, one gallon of water weighs 8.345 pounds.  That's 1001 pounds for 120 gallons, (71.5 stone) plus the weight of the tank itself.  
Typical Aquarium Dimensions
They are great for living areas at home as they are usually rectangular.  But make sure you have a solid floor taking all that weight.  You can see above these tanks weigh a lot as well as hold a lot of fish.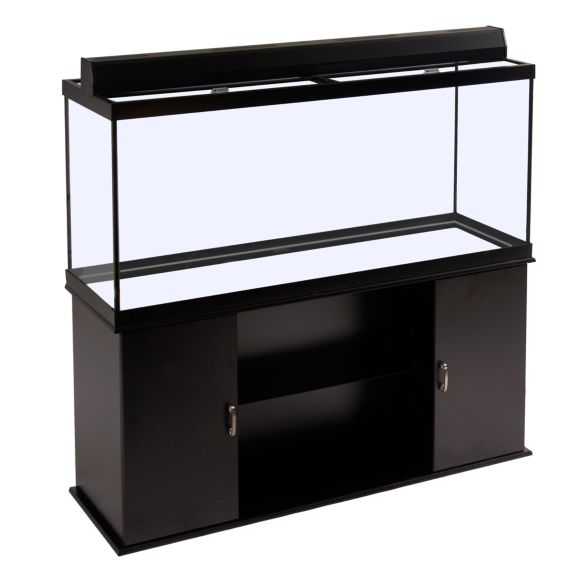 Typical Aquarium Dimensions: 18″L x 60″W x 26″H  (46cm x 152cm x 66cm)

The Stand will usually be about the same size, the height maybe a little more at say 30″ (76cm) high.
Recommendations
SC Aquariums 120 Gallon Starfire Glass Aquarium 48x24x24 12mm Eurobraced with Built-in Overflow Box
.   Buy it now click here.
Aquarium Dimensions: 48 in x 24 in x 24 in.  Package Weight: Over 100.00 lbs
SC Aquarium 120 Gallon StarFire (Low Iron) Glass Tank 48 x 24 x24″ 12mm Eurobraced with built-in center overflow.  3 holes drilled inside the overflow box all fit 1″ SCH40 bulkhead.
SCH40 Plumbing Kit for the aquarium is included.  Black Background, Black Silicone.   Great customer service.
We also recommend the 150 gallon tank if you are able to go a little bigger!
1/2″ inch (12mm) Eurobraced with built-in center overflow. All the glass has a nice bevel including the Eurobrace.  The overflow box is also 1/2" thick glass. 
3 holes drilled inside the overflow box all fit 1″ SCH40 bulkhead. Plumbing Kit for the aquarium is included.  The plumbing provided is adequate to get everything set up using the herbie system.  It  includes the pvc pipes, elbows, and true union ball valve to make a Herbie overflow, which many consider to be one of the quietest overflows.
You might need help to unload for this thing, it is HEAVY. Very well boxed and comes on a wood pallet.
To see a wider range of fish tank sizes and stands go to our page  fish-tanks-and-stands
Finally – Aquarium Dimensions to Suit You
If you are looking for custom made tank with the aquarium dimensions to suit your needs check out our 'Custom Aquariums' page.
Thomas McCready is the co-founder of Technology Companies that developed many fish tank products such as aquarium heaters and pumps following his passion for keeping fish.